You know that perpetual tingling, restlessness, and wandering off on social networks when you have to do something that you don't feel like doing, but at the same time, you realize that you have to do it because it always is there waiting for you anyway? I experienced this a few weeks ago with this gluten-free coconut biscuit recipe. I couldn't resist the urge that pulls me into the kitchen – to create, stir, bake and eat.
​Try to bake these gluten-free coconut biscuits with coffee or tea, secretly add them as a sweet surprise to your little ones, or take them to work or trip outside. The joy you invoke is guaranteed!
Gluten-Free Coconut Biscuit Ingredients (approx. 30 pieces)
Biscuits
​74 g homemade Nutella​
55 g butter
40 g cane sugar
1 egg
1 tee spoon of the vanilla extract
25 g coconut flour
5 – 10 g grated coconut
10 g coconut chips
1/2 ​tee spoon of soda bicarbonate
pinch of salt
Topping
Grated coconut
Dark chocolate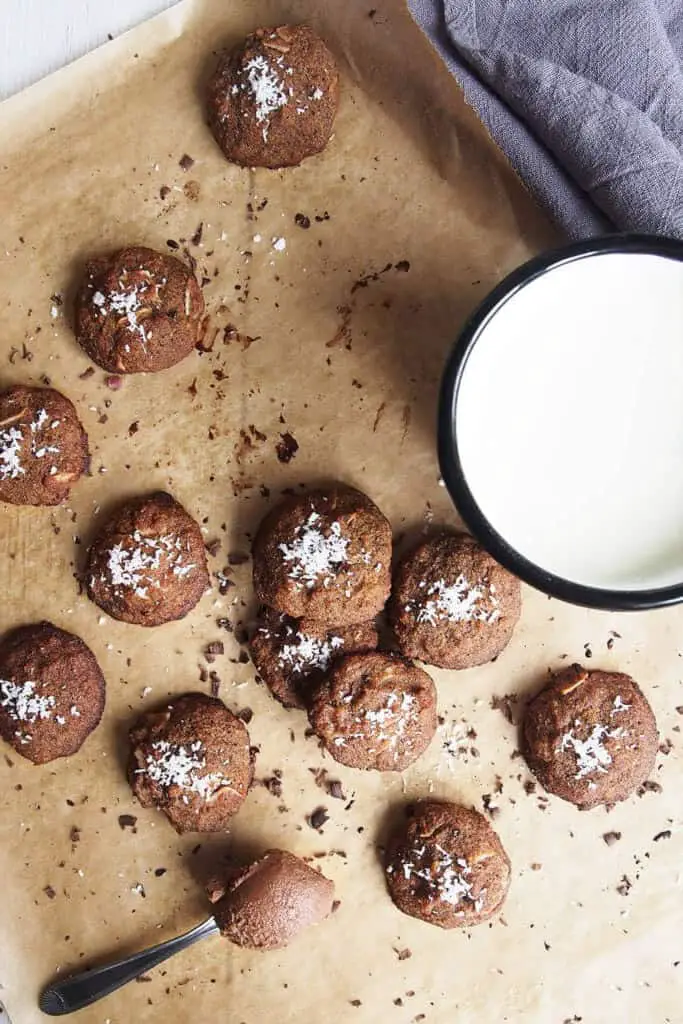 How To Make Gluten-Free Coconut Cookies [the process]
​Cut the butter into cubes in a bowl and allow to soften at room temperature. Then mix it with a blender to a smooth consistency, add the sugar and whisk again. ​Add eggs, a spoon of vanilla extract, and stir. ​Then add half of the Nutella (37 g) and mix gently with a spatula.
​In the second bowl, mix the dry ingredients – coconut flour, grated coconut, soda bicarbonate, and salt. ​Pour it into the wet ingredients and mix until the ingredients are fully ​blended. Add the coconut chips (which will make the coconut biscuits crunchy) and the rest of the ​Nutella. Stir gently until the ingredients are mixed. Otherwise, the dough will be hard, and ​there will be no trace of Nutella.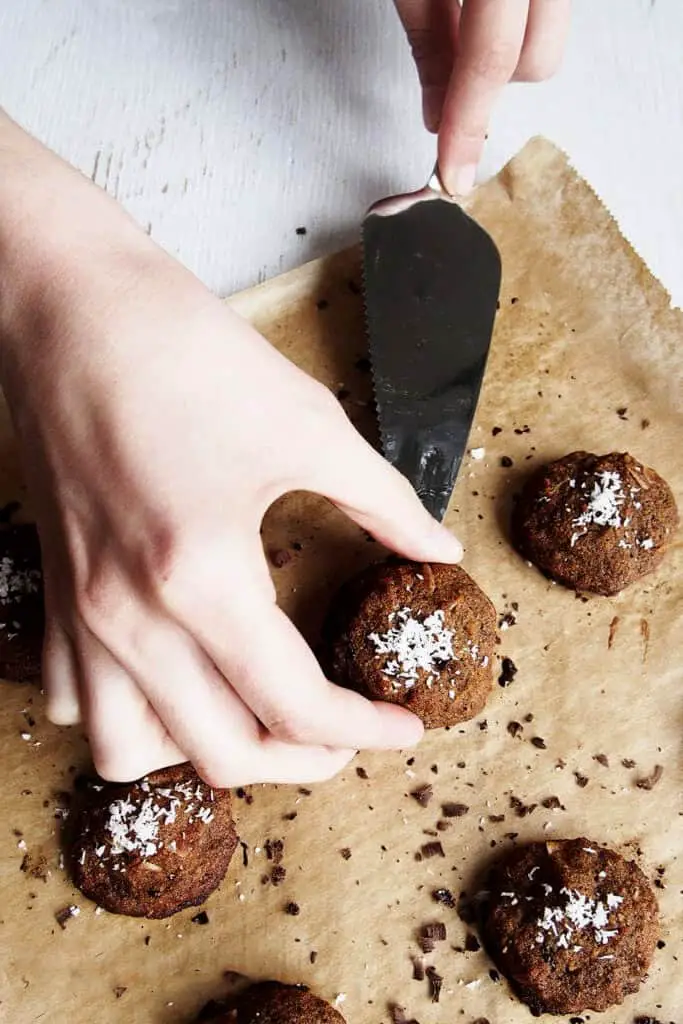 We layout the baking tray with a baking sheet and form balls with a spoon and our own hands. Place the balls on the baking sheet at a reasonable distance from each other. If the dough sticks, you can leave it in the refrigerator for 30 – 60 minutes to set and make it easier to work with. Place in a heated oven and bake for about 10 minutes at ​35​0 °F.
Sprinkle the finished, still warm cookies with pieces of chocolate or grated coconut. From this batch of dough, you will have 30 biscuits – two people will eat them in less than 24 hours, so I recommend making ​more batches if you are ​a bigger family. These gluten-free coconut biscuits are delicious​.