Given its visual similarity to rice, many assume couscous is gluten-free. However, these pasta spheres, while tasty, are NOT, in fact, gluten-free. 
Some couscous substitutes are somewhat similar in appearance, texture, and just as delicious, including brown rice and quinoa.
In this article, I'll help you understand what couscous is, how I like to prepare it and provide you with alternatives you can use to make anything from salads and soups to full-course meals.
Is Couscous Gluten-Free?
Couscous is not gluten-free; therefore, those with gluten intolerances, like celiac disease, should look for gluten-free alternatives or substitutes to couscous.
Although couscous is similar in texture and appearance to rice and other gluten-free grains, traditional couscous is not gluten-free. It originates from semolina, a granule of durum wheat.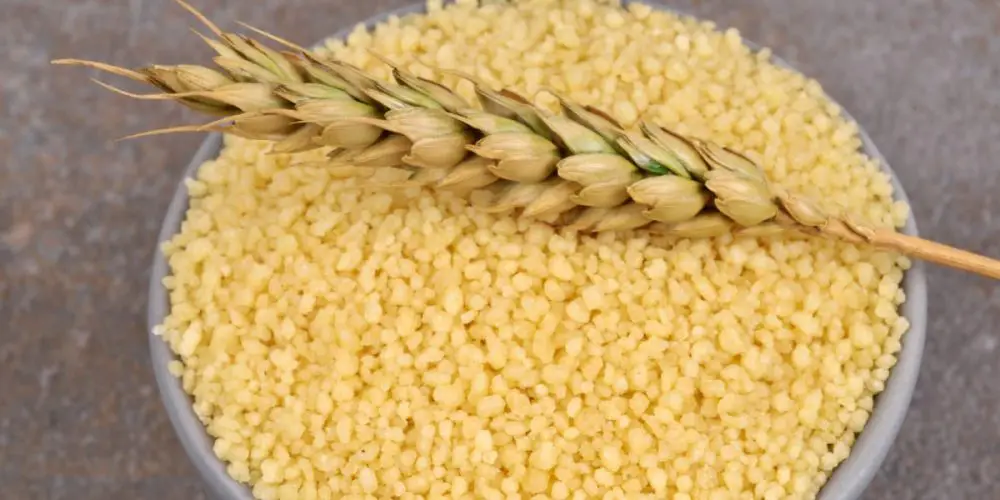 This can cause much confusion at restaurants, especially since some restaurants' menus list couscous as gluten-free. 
If you have gluten sensitivity or are celiac, be mindful of this and question restaurants that claim their couscous is gluten-free. 
It can be even more confusing because some companies will market alternatives to couscous, with similar taste and texture, as couscous itself. 
The same goes for items that by themselves are gluten-free such as rice or buckwheat, but when altered in their form, such as a noodle, may no longer be gluten-free because of how it's been processed or what other ingredients may be added.
As always, my advice is to read the ingredients list and make sure wheat or any derivative of this grain is not present in the list. If you are celiac, you also have to ensure no cross-contamination.
For example, buckwheat noodles still may not be gluten-free because the company may have to add wheat flour to make it into a noodle. 
Always be cautious when ordering items that are labeled as gluten-free. Check with the label or restaurant to ensure their processes didn't turn something that's gluten-free in its natural form into something that no longer is.
Products don't get exposed to cross-contamination in their factory, but this process can also happen while the restaurant prepares your food. Unless the owner of a restaurant or packaging can confirm that what you're eating is certified gluten-free, it'd be safest not to eat it. 
If you have severe gluten sensitivities such as celiac disease, ensuring that gluten is not hiding in your rice pilaf is critical. Instead, look for gluten-free alternatives.
What is the couscous gluten content?
Commercially produced couscous, or almost any commercial pasta, is made almost exclusively from durum semolina. Semolina is a high-gluten flour made from hard durum wheat.
Durum contains a whopping 27% extractable wet gluten, which is more or less 3% higher than your everyday wheat.
Its high gluten content makes durum wheat is not suitable for people with gluten-related disorders such as celiac disease, non-celiac gluten sensitivity, and wheat allergy.
Is Moroccan couscous gluten-free?
Moroccan couscous, like other traditional couscous varieties, is not gluten-free. If you have gluten intolerance, then you should avoid this dish.
Traditional Moroccan couscous is eaten by hand instead of utensils. At diners, people will put the couscous in between their fingertips and roll it into balls before eating.
Is Israeli couscous gluten-free?
Just like with Moroccan couscous, Israeli couscous is not a gluten-free dish. 
Many people (especially those who have never had Israeli couscous before) wonder what the difference is in comparison to regular couscous.
While both are made with water and semolina flour, regular couscous is irregular-shaped and much smaller than Israeli couscous. Additionally, the Israeli variety has a softer, chewy texture.
Because of its size, Israeli couscous is also known as pearl couscous.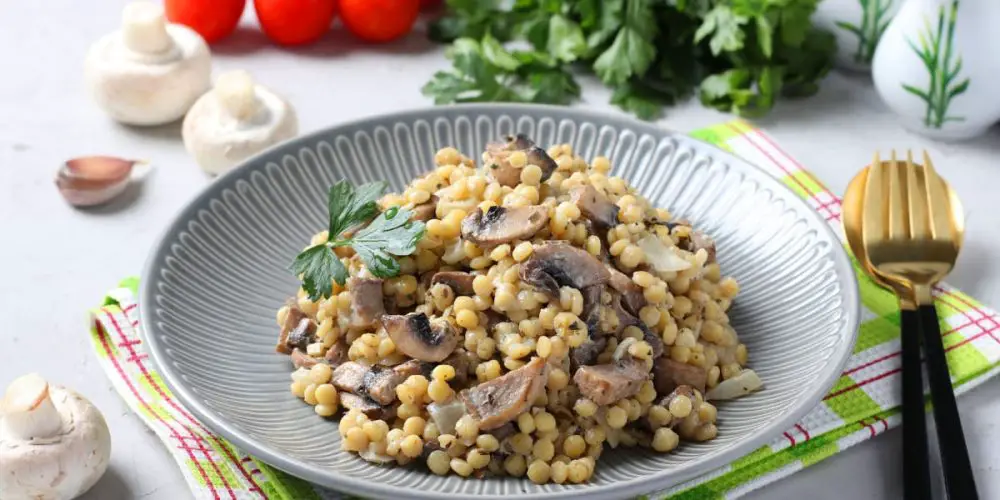 Is Couscous Safe for Your Gluten-Free Diet?
Conventional wheat couscous is not safe for your gluten-free diet because it comes from the grains of durum wheat. 
While most people think it falls in the same category as rice, it's actually wheat pasta, making it unsafe for your gluten-free diet. 
Due to the growing popularity of gluten-free products, companies are offering gluten-free alternatives to typical gluten products.
If you don't want to use gluten-free couscous but still crave that texture and taste, people with gluten sensitivities still have other grain alternatives such as brown rice and quinoa to enjoy a gluten-free meal.
Buying Gluten-Free Couscous
As mentioned above, there is a range of gluten-free couscous products and substitutes for couscous available at your grocery store and online.
Gluten-free Couscous at Wholefoods
Wholefoods don't have any gluten-free couscous. If you are going there and need to buy the ingredients for some wholesome couscous dish, I would suggest buying a substitute like quinoa or short whole grain rice.
Gluten-free Couscous at Walmart
Walmart does not have gluten-free couscous but they do have substitutes like quinoa available in their stores. They have a few gluten-free quinoa brands like Ancient Harvest and Better Body Foods.
Gluten-free Couscous at Ralphs
Ralphs is part of the Kroger family of supermarkets and stores and has almost 200 stores in the US. They offer a few varieties of gluten-free couscous and other alternatives. Some of the brands they offer I included in my reviews below.
Gluten-free Couscous at Publix
Publix stores do have gluten-free couscous in their stores. They sell Streit's gluten-free couscous. Since it is the only brand they sell. I would always have a plan B in case they don't have it in stock.
Gluten-free Couscous at Costco
Not only does Costco not sell gluten-free couscous, but they don't sell any kind of couscous. If Costco is your only option to shop, you can always substitute couscous for quinoa.
The two quinoa brands you'll find there, Kirkland and Seeds of Change, are not certified gluten-free. I know that quinoa doesn't contain gluten, but I am not sure these two brands worry about cross-contamination.
Gluten-free Couscous at ASDA
ASDA is a store for those who live in the UK. They have a couple of gluten-free couscous options for you. Feel free to check them out. I have never tried those as I am far from the UK. If you do try them, send me your comments and I will update this post with your review.
Gluten-free Couscous at Woolworths
For those in Australia, Woolworths does not offer a gluten-free couscous brand. They do however offer couscous alternatives like quinoa.
If you don't want to go out and search for couscous in your local store, and you are like me, let's explore your online options below:
Gluten-free Couscous Brands
Thanks to people like you and me, there is an increased need for gluten-free products. Many brands are offering alternatives to traditional gluten products, and couscous is not the exception.
Brands substitute gluten ingredients with corn or millet to create a safe alternative for people with gluten sensitivities.
Some of the most popular Gluten-free couscous brands include:
Streit's
Gefen
Anthony's Goods
Earth's Goodness
Shipetaukin
Yolele
Nayama
Clearspring
Bawbab
Free From
Goldbaum
Let's review some of my favorite and not so favorite gluten-free couscouses.
Grain-free Couscous
There are two brands that make grain-free couscous: Streit's and Gefen. Their couscous is made from potatoes, tapioca starch, and egg whites.
You'll find both options listed further down in this article.
Gluten-free couscous San Remo
Unfortunately, my favorite brand of couscous is no longer in production. San Remo, which is one of my favorite gluten-free pasta makes, no longer makes their famous gluten-free couscous. This leaves us with the other couscous alternatives below.
This is not an easy-to-find brand as it is produced for New Zealand, Australia, and Malaysia. But if you do get the chance to purchase any of their gluten-free alternatives, make sure you give it a try. It's delicious, and it cooks perfectly.
Glute-Free Alternatives to Pearl Couscous, also know as Israel Couscous or Giant Couscous
Pearl couscous is a bit bigger than your traditional Mediterranean Moroccan couscous. The little balls are more like the size of small pearls, hence the name. They are traditionally from Israel and usually kosher.
Gluten-free pearl couscous can be sticky and mushy if not cooked properly. Many of the reviews you read on Amazon blame the product, but it is actually an issue in the cooking that makes this happen – most of the time.
To get great results and avoid smushy couscous, you need to follow my couscous cooking steps in this article.
---
---
---
---
---
---
Gluten-Free Alternatives to Moroccan Couscous also know as Mediterranean Style Couscous
Mediterranean or Moroccan couscous is your traditional small-sized couscous.
Gluten-free Moroccan or Mediterranean couscous can be sticky and mushy if not cooked properly. Many of the reviews you read on Amazon blame the product, but it is actually an issue in the cooking that makes this happen – most of the time.
To get great results and avoid smushy couscous, you need to follow my couscous cooking article.
---
---
---
Fonio, also known as African Couscous, is a Delicious and Healthier Gluten-Free Alternavite to Couscous
Fonio is a West African ancient super grain, a family of the Millet grain. People have depended on it for thousands of years because it is very nutritious and can grow in poor soil conditions. Even though it is an important part of West African cuisine and culture, it is not well known outside of Africa.
Whole grains, like fonio, are important for your health. They contain fiber, B vitamins, are rich in minerals, and more. All of these help you feel fuller longer. Fonio also has a low glycemic index, making it diabetic-friendly.
Fonio is one of the best gluten-free alternatives to traditional wheat in tabbouleh and couscous.
One negative thing about Fonio is that it is more expensive than the other gluten-free couscous alternatives.
Gluten-free Fonio couscous can be sticky and mushy if not cooked properly. Many of the reviews you read on Amazon blame the product, but it is actually an issue in the cooking that makes this happen – most of the time.
To get great results and avoid smushy couscous, you need to follow my couscous cooking article.
---
---
---
---
---
Gluten-free Couscous Substitutes
When planning to cook your gluten-free couscous meal, be sure to plan ahead. 
Though couscous made from other ingredients different from wheat is becoming more available, it can still be a little challenging trying to find it at your local grocery store and sometimes even online. 
If you're already in the middle of preparing a dish that involves couscous, and you weren't lucky enough to find gluten-free couscous, you can always use one of these substitutes:
Quinoa
Quinoa is an excellent couscous alternative due to its similarities in taste and texture. 
Just like any other brand, be sure to check it's certified gluten-free to make sure it's 100% gluten-free. 
Although there are many options out there, my favorites include Lundberg's which is certified Gluten-free, or Kitchen and Love which is Gluten-free and it comes in different flavor packages.
Brown rice
Brown rice is another great substitute for couscous. You'll need to grind it a bit and break it into smaller pieces to get a similar texture to couscous.
The other alternative is to go with a short grain brown rice, you'll have a better shot at achieving that couscous substitute without the need of processing the rice.
Once again I recommend Lundberg's as your gluten-free rice alternative. As a side note, Lunberg's has a nice assortment of different types of rice. They are all super tasty and certified gluten-free.
Cornmeal
You'll be surprised about this option. I once visited Costa Rica and tasted a dish that was made with coarse-grind cornmeal and pork. It was almost like a version of wet rice, but more aldente and with a corn taste. It reminded me a lot of couscouses texture, but with a hit of corn taste.
When I got back home, I ordered some mid and coarse-grind cornmeal and tried it myself. Though it is my least favorite substitute, my couscous turned out OK. It does take longer to cook and it is a bit mushy.
The two brands I can recommend are Yummy, and Bob's Red Mill.
FAQs
Can a celiac eat couscous?
No. People with Celiac Disease should steer clear of conventional couscous as it does contain gluten. Traditional couscous is made from semolina, a granule of durum wheat.
Can I substitute quinoa for couscous?
Yes. Quinoa and couscous are regularly used as substitutes for one another. They differ slightly in texture and flavor but are very similar nonetheless.
The best part about quinoa is that it is gluten-free, unlike couscous. This makes it safe for people with celiac disease or gluten allergies.
Is quinoa healthier than couscous?
Yes, when comparing it with couscous, quinoa is better for your overall health. 
This is because quinoa contains fiber, complete proteins, it is gluten-free, and a plethora of micronutrients.
Couscous and quinoa do have similar calories, but couscous is faster to cook.
If you have a condition — such as celiac disease — that prevents you from eating gluten, then quinoa is safe to eat. You always have to make sure there is no cross-contamination.
What does couscous taste like?
Couscous has a nutty, sweet flavor, and earthy aroma.
In my opinion, this flavor profile is why quinoa makes a great substitute for couscous.
Let's wrap it up
So, if you had any questions about which couscous to buy, or where to get it, I hope I answered them. There are many gluten-free couscous alternatives in the market today, you can mix them up a bit and try new recipes. Who said gluten-free had to be boring.
Once you have made your choice of what gluten-free couscous alternative you are buying, you'll need instructions on how to cook your couscous and even some recipes to enjoy. I have written an article explaining how to cook gluten-free couscous, and added some recipes at the end.