One of the best things about being gluten-free is finding new and delicious recipes to make. This cauliflower couscous recipe is one that you'll definitely want to add to your repertoire!
It's hard to believe that something as bland as cauliflower could be turned into a delicious couscous-like dish, but this recipe proves that it can be done. It's a great way to get in some extra veggies.
The key is to not overcook the cauliflower you get the grain-like texture similar to couscous. Add in some seasonings of your choice, and you've got a side dish worthy of any table. Give it a try!
Cauliflower is one of the many gluten-free couscous alternatives – this link takes you to a post I wrote with all my favorite gluten-free options and how to cook them.
For those who are on a gluten-free diet and are on the Keto diet, this is practically your gluten-free couscous option. The key to making it taste more like couscous is adding roasted almonds. Don't forget this tip.
Lemony Almond Cauliflower Couscous Recipe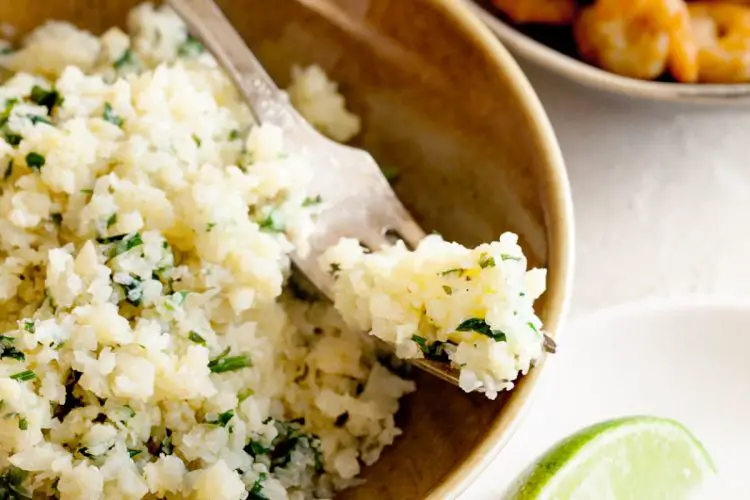 This lemony Israeli cauliflower couscous recipe is not only gluten-free but is also extremely tasty and serves as a side dish for 7-8 people.
Not only is it versatile, as it can be served with a range of main courses, including roasted or grilled salmon or chicken, but it looks and tastes fantastic.
The cauliflower in this recipe is dressed in garlic, parsley, and lemon. 
Ingredients
3 tablespoons of olive oil
Salt
2 tablespoons of finely chopped garlic
1 medium size onion
1 large cauliflower
1 cup of slized roasted almonds
1/4 cup of homemade chicken broth (you can also use a store-bought no-salt-added variety)
Freshly ground black pepper
4-6 teaspoons of finely grated lemon zest
6 tablespoons of freshly squeezed lemon juice
1/2 teaspoon of sugar
3 tablespoons of finely chopped parsley
Preparing the cauliflower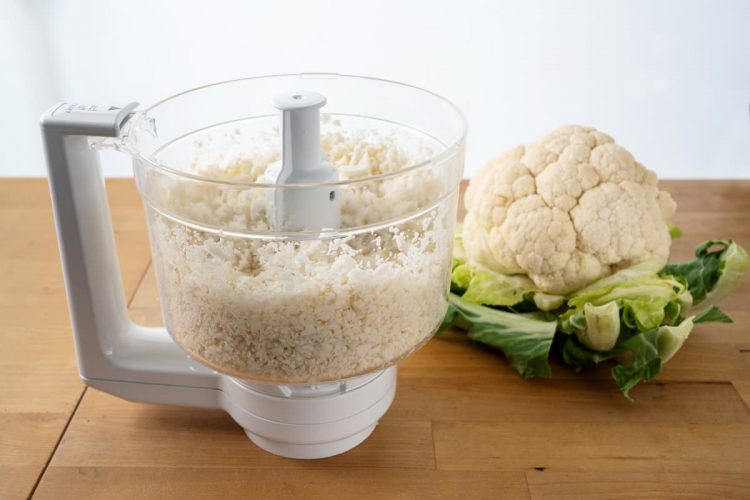 Cut the cauliflower in florets. Don't use the thick part of the stem, make sure you cut the florets around it. Dispose of the stem, usually, it is a bit harder.
Get your food processor ready. You'll want to add the florets a few at a time, don't fill more than 1/2 of your processor with them at a time.
Grind the cauliflower using the pulse button. You'll want to do it a couple of seconds at a time. After 4 or five pulses, make sure you open the processor and stir with a spatula. You want to get an even grind.
Repeat this process until you've ground all your cauliflower.
Cooking the Couscous
Heat your olive oil in a deep skillet or a 10-inch nonstick statue pan over medium-low heat
Add the onion and a pinch of salt, sautey for 5-8 minutes, or right before the onion starts getting brown.
Add 2 tablespoons of finely chopped garlic
Stir often and make adjustments to the heat if necessary to keep the garlic from browning
Add the spices
Add your cauliflower florets and stir to combine
Turn up the heat to medium-high before adding in your broth
Add the broth and don't stop stiring, you want to avoid browning as it will change the flavor or your cauliflower
Cook everything for 7-9 minutes, or until the cauliflower feels aldente and the broth evaporated
Be sure to not overcook. You want to avoid a mushy cauliflower.
Combine the lemon juice and zest, parsley, and sugar. Season with pepper and salt, and turn off the heat.
Continue to stir to let the lemon evaporate and be absorbed by the cauliflower couscous.
Once the couscous is ready, it should be transplanted to a large bowl. If you keep it in the pan, it will continue to cook and the cauliflower will be soft and mushy.
Add the almonds and stir. Do this last before serving, so that they stay nice and crispy when you eat them.
So, there you have it; my easy and delicious cauliflower gluten-free couscous recipe. I hope you give this recipe a try and have your family or friends be enchanted by your cooking.
If you are interested in more recipes like this one or want to learn how to cook other types of gluten-free couscous, visit this blog post.